Published by the Bureau of Economic Analysis (BEA)
SCB Centennial Celebration July 2020 – July 2021
---
Historical Content
The results of deep dives into the Survey of Current Business archives, providing noteworthy memorabilia by decade, including photos, excerpts, advertisements, data presentations, and other interesting items chronicling the Survey's 100 years of reliable, timely, and unbiased publication.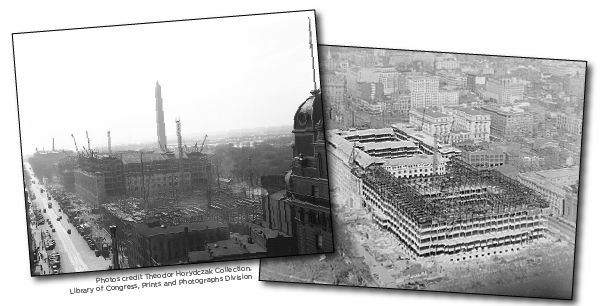 Construction of the Department of Commerce (DOC) Building, where the Survey was produced in its early days. Both the building and the journal got off the ground in the 1920s. Seven stories high, the largest office building at that time, and located in the Federal Triangle area of Washington, DC, it was renamed the Herbert C. Hoover Building in 1981 in honor of the former Secretary of Commerce and U.S. President.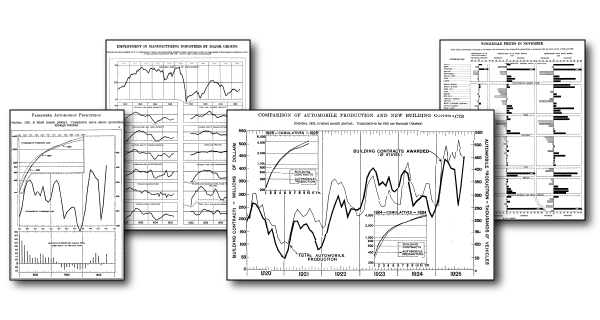 Selected content from the December 1925 issue of the Survey, which provided tables and charts of business indicators and trends by industry and foreign trade data.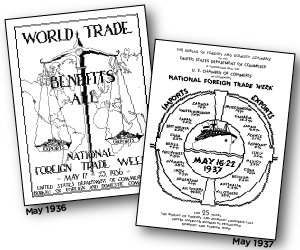 Advertisements appeared in the Survey for the Department of Commerce's 1936 and 1937 Foreign Trade Weeks reports. The 1937 report also commemorated the 25th anniversary of the creation of the Bureau of Foreign and Domestic Commerce.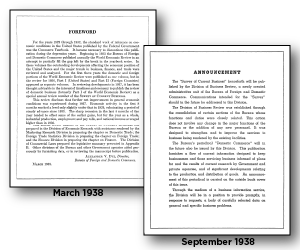 A glimpse into the production of the Survey during its early years is shown here in the first Survey-published message from a Bureau director in March 1938. Note that a different division within the Bureau of Foreign and Domestic Commerce would take over publishing the Survey in September 1938.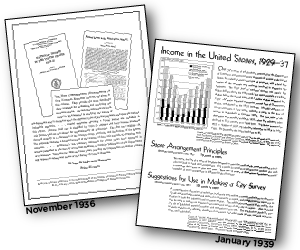 Advertisements appeared in the Survey for the 1929–1932 and 1929–1937 National Income in the United States reports, both updated editions of the groundbreaking National Income, 1929–32 report.
Stay tuned for the remainder of the year, as we continue to highlight historical Survey content from the BEA archives.